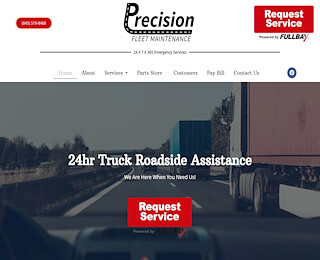 You can trust our expert technicians from Precision Fleet Maintenance any time you need a big rig repair in West Nyack. We can come to your roadside rescue with tools and diagnostic equipment or keep your entire fleet in excellent repair with ongoing fleet maintenance management services at a cost you can afford. We offer fleet maintenance for company vehicles of every make and model- including semis and heavy duty trucks of all kinds. Why not get in touch with one of our service specialists today to find out more about what we have to offer; reach us by phone at 845-519-8488.
3 Compelling Reasons To Choose Us For Big Rig Repair in West Nyack
1. We offer a broad range of fleet management services to keep your vehicles on the road, performing well, and safe for your drivers:
24-hour emergency road side assistance
Air brake systems repairs
Brake adjustments
Engine code troubleshooting
Battery service
Annual federal inspections
Mobile AC repairs
Locked out services
Fuel delivery
Hydraulic hose repairs
Mobile welding
And much, much more
2. When your trucks are out on the road day after day making deliveries, accidents and mishaps are bound to happen from time to time. We offer high quality semi trailer repairs, with capabilities to work on all aspects of a truck trailer, including flooring, liftgates, landing gear, tires, side skins, suspension, roofing, and more- and a fast turnaround you're sure to appreciate.
If one of your drivers should break down on route to a delivery location or on their way home, we'll send out a mobile diagnostic truck fully equipped with testing tools and equipment to get them back on the road again safely. Our services offer exceptional peace of mind to you and your team.
3. Along with big rig repairs, we've put together a comprehensive fleet preventiative maintenance program that will help you avoid breakdowns and keep your trucks on the road longer between repairs. With preventative maintenance, you'll notice your drivers won't call in as often to report issues with their engine. Our professional assessment of every square inch of your fleet, and timely repairs and maintenance will work to your favor and boost your bottom line. Certified ASE technicians ensure a professional big rig repair in West Nyack when you contact us.
Tell your driver to sit still and let them know we're on our way 24/7. No issue is too big or small for our pros to handle, no matter the time of day or night.
Three Ways to Contact Precision Fleet Maintenance
Give us the opportunity to answer your questions about our fleet repair and maintenance services; we're confident you'll agree that we are the perfect solution to all of your maintenance and repair challenges. Schedule fleet service or inquire about an estimate when you get in touch with us today.
big rig repair West Nyack
Precision Fleet Maintenance
+1 845-519-8488
75 Lake Road
Congers
NY
10920
View Larger Map
We welcome your comments!